Ed DeJong has lived on Drum Road in Pontypool for over 20 years. He recently put $20,000 into his swimming pool and was looking forward to enjoying it this summer. That was before the Settlers Landing wind farm fired up two weeks ago. "It sounds like there's jets, like I have an airport in my back yard, it's steady, a very steady noise" he says.
The Setters Landing Wind Park project is a 8 megawatt wind energy project located in the City of Kawartha Lakes near the town of Pontypool. In April 2010, the project was awarded a 20-year term power purchase agreement by the Ontario Power Authority under the Feed-in Tariff (FIT) program. The project consists of 4 wind turbines.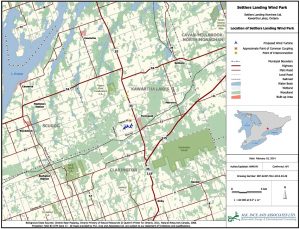 Settlers Landing is less than 600 metres from DeJong's house. DeJong has filed complaints with the Ministry of the Environment, Councillor Heather Stauble and Capstone Infrastructure Corporation who owns the project.
Erin Jaggard, Environmental Manager, Capstone Infrastructure Corporation told the VanMeer Free Press " With regard to noise complaints, over the next 18 months there will be a number of audits to monitor noise levels at both the turbines themselves and nearby receptors to verify the results of the noise assessment completed as part of the REA application."
She says the audits are requirements of the REA (Renewable Energy Approval) and will follow protocols developed by the MOECC.  Ultimately, the tests will confirm compliance with the 40 decibel limit which is a regulatory requirement of this project.
But Dejong says that means nothing. "Nobody cares" he says. "What kind of person would put these monsters in someone's back yard"
Settlers Landing was modified after local residents fought against it. An Environmental Review Tribunal (ERT) decision which found that there would be serious and irreversible harm due to the location of two of the turbines and an access road in the "significant woodland" area.  As a result the company was given the opportunity to come up with a "remedy".  "The remedy proposed was to eliminate one turbine, reduce the footprint on another (Turbine 5), move the access road from the significant woodland to the south end of the project area and replanting or transplanting to compensate for the removed woodlands." says Councillor Stauble.
Stu Williams lives on Telecom Road in Pontypool.  He has also complained about the noise. "At the beginning of last week we had an east wind, we stepped outside on the deck and the sound was like a jet going by. You could hear the chop chop of the blade, all night." he says.
Jaggard says all complaints follow their Complaint Resolution Protocol which has been developed to meet the requirement of the project's Renewable Energy Approval (REA) conditions.  "This protocol is in draft for the Settlers Landing Wind Park project and will be issued in the next few days". It will be published on the company website.
Williams says he can't understand how the project ever received approval. " The last week and a half has been very disappointing. We won the ERT, we proved irreversible damage to the environment." And he says it's ruining their enjoyment of their home. "We the noise we heard we could not possibly take guests and sit outside on our deck"
Both Williams and DeJong are worried about their property values as well. "We finally have our house paid for and now they are going to make it so I can't sell it" Dejong told the VanMeer Free Press. "If anyone drives down the road you are transfixed by these motors" Williams says.
It's estimated that the wind farm will generate enough electricity to power the equivalent of 6,000 homes annually, however, it's energy that is not needed and is usually sold at less then it costs to produce.
Jaggard says residents who want to complain must follow a three step process.
Complaint initiation and documentation
Notification of complaints
Complaint resolution
Councillor Stauble provided this list for concerned residents to file complaints:
Erin Jaggard
Environmental Manager
CAPSTONE INFRASTRUCTURE CORPORATION
Direct           +1 (416) 649-6101
Cell               +1 (647) 625-8510
Facsimile     +1 (416) 649-1335
Email             [email protected]<mailto:[email protected]com>
Web               www.capstoneinfrastructure.com<http://www.capstoneinfrastructure.com/>
Ministry of the Environment and Climate Change (MOECC)
Peterborough District Office of the MOECC at 705-755-4300 during normal business hours, Monday to Friday.
At all other times the complainant should call the MOECC Spills Action Centre at 1-800-268-6060.
For follow-up to complaints or questions [email protected]<mailto:[email protected]ontario.ca>
<mailto:[email protected]ontario.ca>
Glenn Rutherford
Peterborough District Office
Ministry of the Environment and Climate Change
300 Water Street, Robinson Place, 2nd Floor, South Tower
Peterborough,  ON   K9J 3C7
Include as much as possible of the following:
*   Name and contact information  ie. your phone number, email, address
*   Date and time of noise – ie 11 pm, Tuesday, April 3, 2017
*   Location of Complainant  at time of incident – ie my home
*   ID and location of equipment  Involved (if known)  ie turbine 5 or turbine behind my house …
*   Detailed description of noise – ie. describe what it sounds like
*   Wind direction and speed if known – ie NW, SW heavy winds, light winds
You can also copy Stauble on the emails:
Heather Stauble
Councillor
Ward 16
City of Kawartha Lakes
DeJong commends Councillor Stauble and MPP Laurie Scott who he says fought hard to keep wind projects out of Kawartha Lakes. "People like Heather and Laurie Scott fought their hearts out to stop this. "They are wonderful stand-up people."
The city of Kawartha Lakes denied approval for the project but the decision was overruled by the province.